Sharing HLS Sequences
From doityourselfchristmas.com
Files Needed for Sharing/Moving Sequences
---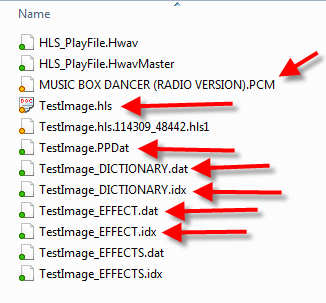 HLS creates a number of files in each sequence folder. Many of these are backups or potentially other files that are not needed when looking to share a sequence with another person. Another time you would do this is if you had a "work" computer that you did the sequence work on, but needed to move sequences to a "show" computer for the actual output.
Figure 11-12 indicates the files that should be included in a zip file when sharing the sequence.
Note: The PCM file is the audio file in the sequence. This is an internal HLS file and cannot be played in a normal audio player.
Creating the Zip File
---
Open Windows Explorer and navigate to your HLS Folder. Inside will be folders containing each of your sequences. Open the folder for the sequence you wish to share.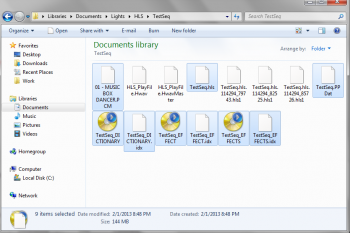 Select the files that need to be included in the shared sequence. You can select multiple files by holding down the CTRL key and clicking desired files. (See Figure 11-13.)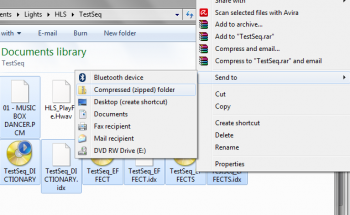 Right-click on the selected files, select Send to -> Compressed (Zipped folder). See Figure 11-14.
Your files will be compressed into a zip file. Name it and click enter. You can now share this file with others.