Using Audacity Labels
From doityourselfchristmas.com
HLS can import Audacity labels to help automate precise beat track creation. First, make sure you have installed the Queen Mary Vamp plugins: http://vamp-plugins.org/download.html
Creating a Label Track in Audacity:
---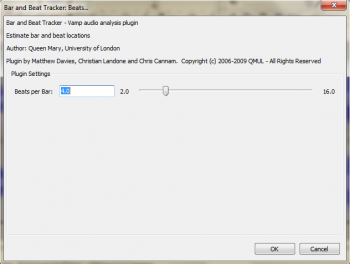 Open Audacity and open your mp3 file.
Click Analyze -> Bar and Beat Tracker: Beats...
The window shown in Figure 10.5-1 will appear. Select the beats per bar. This will place the specified number of labels for each measure of music. For example, if you choose 4, and there are 4 beats per measure in the song, you will have one label for each quarter note. Setting this to 8 would give you one beat for each eighth note, etc.
(Audacity will now analyze the file to determine the beats.)
Once complete, you will see the label track that has been created.
Click File -> Export Labels.
Save the resulting text file.
Tip: Create a "Label Tracks" sub-folder in the HLS main folder for saving these files.
Adding the Labels to HLS
---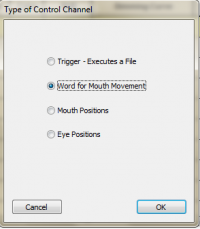 Open HLS and either open the sequence that uses that audio, or create a new sequence using that audio.
Open Channel Manager (Manage Channels -> Manage Raw Channels).
Click Add Control Channel. Figure 10.5-2 will appear.
Select "Word" and click OK.
Scroll to the word channel and name it something meaningful (such as Audacity). Click Done with Changes.
Add the Audacity channel to a display group and make that display group active.
Right-click on the first cell in the word channel and select Add Audacity Label Track File.
Labels will be added similar to those seen in Figure 10.5-3.
Tip: Add the channel to the beat channel group or make it sticky so you can use it as reference.